"You gotta have style. It helps you get up in the morning. It's a way of life. Without it you're nobody. I'm not talking about a lot of clothes."
Diana Vreeland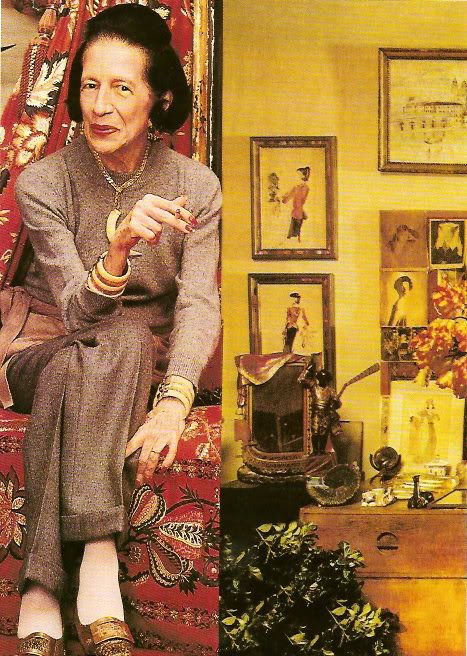 На легендарного главного редактора американского Vogue Диану Вриланд мечтают быть похожими все редакторы моды. Ее называют самым строгим арбитром элегантности ХХ века.

"Наплюйте на факты! Думайте только о том, какой вас видят окружающие", - советовала Диана Вриланд. Она знала, о чем говорила: двадцать пять лет проработала редактором моды в Harper's Bazaar, в 60-е стала главным редактором американского Vogue, с 1973 по 1989 год (до самой смерти в возрасте 86 лет) курировала Институт костюма при Меtrороlitап Museum of Art в Нью-Йорке. Эта внешне некрасивая женщина с интуитивным чутьем на красоту, с тонким умом, язвительной речью и удивительным женским шармом целых полвека заряжала своей энергией мир моды. Фотограф Ричард Аведон говорил о ней: "Ди-Энн (так она обыкновенно произносила свое имя) изобрела профессию редактора моды. До нее были светские дамы, которые примеряли шляпки на других светских дам".


Рассказывает Колин Макдауэлл/Соliп McDowell, который был знаком с Вриланд и которого не пугали ни ее эксцентричные поступки, ни ее едкие замечания.

Я был знаком с Дианой Вриланд и с уверенностью заявляю: это необыкновенная женщина. У нее бьл свой взгляд на каждую вещь, и этим она напоминала Пикассо. Окружающую действительность она чувствовала по-своему, "по-вриландски": "Что я думаю о том, как одевается большинство людей? Да я вообще не думаю о большинстве!" За ее эксцентричным поведением скрывался ум проницательной женщины, уверенной, что "вульгарность важная составляющая жизни". Ее жизнь была сказкой в духе fantasy, в которой она играла одновременно несколько ролей. То она воображала себя Елизаветой I, то Людовиком XIV. То отправлялась под парусом к берегам Индии (ей принадлежит знаменитая фраза: "розовый - это индийский синий"), то представляла себя принцессой в шатре персидского падишаха. Ее восхищала русская варварская роскошь, которую подарил миру Дягилев вместе с декорациями Бакста, гениальным перформансом Нижинского и сумасшедшим фейерверком "Русских балетов".

Я не знаю, бьл ли талант Вриланд предсказывать моду врожденным или это результат воспитания. Диана ничего не рассказывала о своем детстве, она только запутывала биографов, разбивая свою Историю на множество увлекательных историй. Она была уверена, что ее прошлое принадлежит ей одной, а другим открывала лишь то, что было связано с настоящим. Мы знаем, что в детстве мать определила Диану в балетную школу Михаила Фокина. "С тех пор самым важным для меня стали движение, ритм, дисциплина - все, чему учил меня Фокин. Начав танцевать, я научилась мечтать",­ говорила Диана. Вместе с сестрой юная Вриланд брала уроки верховой езды: "Нас тренировал офицер гренадеров. Как же я любила его ярко-красный, скроенный по фигуре гвардейский мундир! И блестящие, натертые до блеска высокие сапоги, и красивые медные пуговицы!"




Точно не известно, как она дебютировала в профессии: то ли работала в лондонском бутике нижнего белья, то ли училась модной науке в приме­ рочных на парижской рю де ла Пэ. Я слышал от нее обе версии, и, возможно, обе они имели отношение к действительности. В конце 20-х годов, будучи женой респектабельного банкира Рида Вриланда, с двумя маленькими сыновьями и служанкой-француженкой, Диана очутилась в Нью-Йорке. К слову, служанка была едва ли не самым важным персонажем в "клане" Вриланд: она обеспечивала порядок, без которого не могла обойтись Диана. Перфекционистка в высшей степени, Вриланд повторяла, что "французы - единственная нация, которая умеет использовать утюг по назначению".



1933

Карьера Дианы Вриланд как редактора моды началась неожиданно для нее самой в 1936 году, когда на танцевальной вечеринке в отеле St. Regis на нее обратила внимание Кармел Сноу, тогдашний редактор Haгper's Bazaar. Диана была в белом кружевном платье от Chanel, ее черные волосы украшали гребни-розочки. Во время ужина Сноу подсела к Вриланд и, представившись, предложила ей работу в своем журнале.
Интуиция не подвела Кармел Сноу. Диане Вриланд поручили вести колонку под названием "Why Don't Yоu…? " - оригинальные советы-подсказки для модниц в форме вопросов, начинавшихся с "Почему бы не…? ". Советы Вриланд бьmи меткими, смешными, провокационными, похожими на шутливые скетчи. О новом редакторе вскоре заговорили в модных кругах. На имя Дианы Вриланд стали приходить письма с ответами, причем писали ей и женщины и мужчины. "Вриландизмы" стали языком светского общения на вечеринках.



Photographed by Jack Robinson




"Почему бы не ... выбрать одно любимое платье и не сделать несколько его копий - вы навсегда застрахуетесь от неожиданностей?. Не подстричь деревья в саду под павлина или пуделя?. Не подарить любимой собаке желтый кожаный ошейник с золотыми заклепками?. Не сполоснуть светлые волосы игристым шампанским? .. Не застелить желтый бархатный диван в гостиной шкурой белой мартышки? .. " Список безумных вопросов-идей Вриланд можно было бы продолжать до бесконечности. Я спрашивал у Дианы, сколько времени у нее уходило на составление рубрики. "Нисколько, - отвечала она. - Я просто записывала мысли, которые приходили мне в голову".

В 1962 году Диана Вриланд перешла из Harper's Bazaaг в Vogue, а через несколько лет стала его главным редактором. Знатоки моды называют 60-е "эпохой Вриланд": тогда каждая страница американского Vogue заявляла модный тренд.



STYLISH PAIR: Diana and Reed Vreeland--her stylish, urbane husband with whom she had two sons, and whose death in 1966 devastated her--on the steps of the Southampton Bathing Corporation in the late forties.

Диане были свойственны любопытство и авантюризм. В то время как в Нью-Йорке музыкантов Beatles и приехавших из Британии модных фотографов встречали как пришельцев с другой планеты, инстинкт Вриланд подсказывал: за этими юнцами ­ будушее. В этом и заключался ее талант: она видела далеко вперед и была готова принимать все новое, каким бы шокирующим и рискованным оно ни выглядело на первый взгляд. Диане было за семьдесят, когда кто-то из друзей пригласил ее в манхэттенский клуб Studio 54. Вскоре она стала его завсегдатаем. Ее не смущали ни непристойности, ни наркотический дурман, которые царили в самом "горячем" из нью-йоркских клубов. Она знала: мода создается не только на подиуме.
При Вриланд на страницах Vogue побывали все знаменитости того времени: от Энди Уорхола до Рудольфа Нуреева. Успех молодого таланта определяло его появление в Vogue, главный редактор которого заявляла:
"Не выношу нарциссизм, но одобряю тщеславие". Диана Вриланд была дружна со всеми своими героями, в ее записной книжке были домашние телефоны графини Виндзорской, Мика и Бьянки Джаггер, Ива Сен-Лорана, принцессы Маргарет, Джекки Кеннеди, Валентино. И когда она звонила им, они бросали все и приезжали к ней в гости на Парк-авеню.



Diana Vreeland posing for a Blackglama mink advertisement (a famous campaign that recently has been revived by the fur company). The cape was her own, and her hair and makeup were done by society's favourite stylist, Kenneth Battelle. Photograph by Bill King, 1977.





Я хорошо помню ее маленькую заставленную квартирку - противоположность элегантно-чистому макету Vogue. У нее дома повсюду стояли безделушки и занятные вещицы со всего света. Стены гостиной по­ крывал индийский вощеный ситец ярко-красного цвета. Его нашел в Лондоне дизайнер Билли Болдуин, которому Диана сформулировала задачу так: "Я хочу, чтобы комната была похожа на сад ... на адский сад!"
Я приходил к Диане на чаепития, которые она устраивала по случаю приезда английских друзей. Один раз она при мне отругала служанку: "Милочка, неужели вам не известно, что англичане никогда не добавляют молоко в чай Lapsang?"



Diana Vreeland by Andy Warhol




Она восседала перед гостями на высоком стуле посреди гостиной. Блестящие, черные как вороново крыло волосы. ryбы, щеки, брови, даже мочки ушей подкрашены ярко-красной помадой. Кашемировый свитер от Givenchy, темные брюки от Yves Saint Laurent - все сделано на заказ специально для Вриланд. Она ввела моду на спортивную одежду и фланелевые костюмы. Ее остроносые туфли натирались кусочком шкуры лося. Диана утверждала, что этому ее научили гвардейцы, у которых она в детстве брала уроки верховой езды. На запястьях - с десяток тяжелых браслетов, на длинных пальцах - массивные кольца. Я до сих пор слышу интонации ее хриилого, прокуренного голоса: она могла разговаривать как аристократка с Парк-авеню или подражать акценту дальнобойщиков из Бронкса.
На "трон" Дианы Вриланд было множество претендентов, но он до сих пор не занят. В последнюю нашу встречу, за несколько месяцев до смерти, в августе 1989 года, она сказала: "Знаете, Колин, мало иметь энергию. Нужны еще тщательность и точность. Если, конечно, вы хотите сделать что-нибудь стоящее". Эта ее фраза - лучшая эпитафия к жизни женщины, не терпевшей второсортности, каждый момент существования которой подчинялся страстному служению красоте.




Diana Vreeland's Quotes:

* Never worry about the facts. Just project an image to the public

* I'm terrible on facts. But I always have an idea. If you have an idea, you're well ahead!

* Balenciaga did the most delicious evening clothes. Clothes aren't delicious any more.
* Blue jeans are the most beautiful things since the gondola.
* Elegance is innate. It has nothing to do with being well dressed. Elegance is refusal.
* I adore that pink! It's the navy blue of India!
* I always wear my sweater back-to-front; it is so much more flattering.
* In a Balenciaga you were the only woman in the room-no other woman existed.
* No one cuts backs like he did. No one knows what a back is anymore.
* Poor, darling fellow-he died of food. He was killed by the dinner table.
* The only real elegance is in the mind; if you've got that, the rest really comes from it.
* The two greatest mannequins of the century were Gertrude Stein and Edith Sitwell-unquestionably. You just couldn't take a bad picture of those two old girls.

* What do I think about the way most people dress? Most people are not something one thinks about.

* Never fear being vulgar, just boring.

* Without emotion there is no beauty.

* The best thing about London is Paris.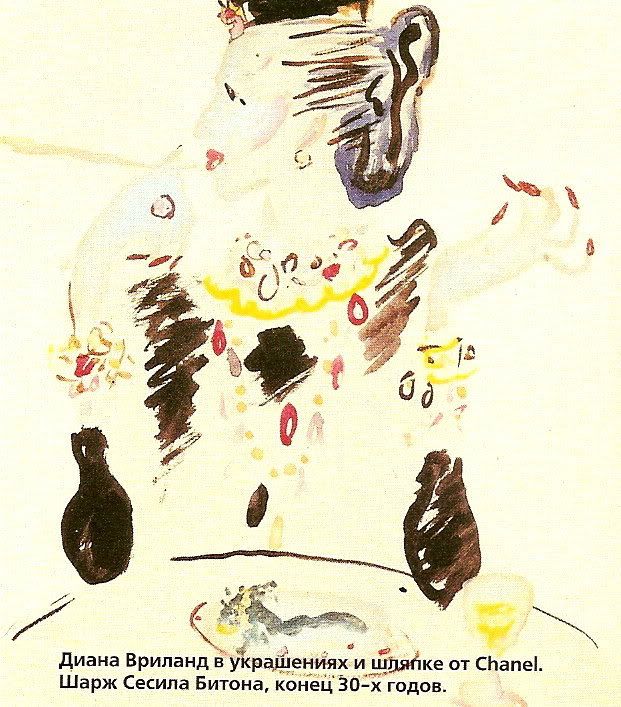 When it came to food, Mrs Vreeland was as exacting as she was stylish. Every day for lunch, for instance, that memorandum noted, she was to be supplied with a cup of black coffee ("not too hot"), a bottle of Scotch (with a Dixie cup), two bottles of Mountain Valley water, yellow raisins in a plastic container, and one of five preferred sandwiches from William Poll, a specialty grocery on Lexington Avenue, including chicken salad with bacon and peanut butter with marmalade.



Diana Vreeland's caviar pie, photographed by Oi-Cheong Lee, The Photographic Studio, The Metropolitan Museum of Art.
When dining at home she was no slouch either. Herewith is Mrs Vreeland's recipe for caviar pie for 6 to 8 persons:

CAVIAR PIE
Caviar
Sour cream
8 to 10 hard-boiled eggs
3/4 bar of butter, melted
Pass hard-boiled eggs through a strainer so they are absolutely mashed. Add melted butter. Put in Pyrex round dish or tart pan. Cover with layer of sour cream. Put in freezer for 1 hour. Take out, spread caviar thinly over. Put at bottom of icebox. Should be cold, not frozen. Cut like a pie. Decorate if wanted.



From a book "What Am I Doing Here"

AT DINNER WITH DIANA VREELAND
"Her glass of neat vodka sat on the white damask tablecloth. Beyond the smear of lipstick, a twist of lemon floated among the ice-cubes. We were sitting side-by-side, on a banquette.
"What are you writing about, Bruce?"
"Wales, Diana."
The lower lip shot forward. Her painted cheeks swiveled through an angle of ninety degrees.
"Whales!" she said. "Blue whales!...Sperrm whales!...THE WHITE WHALE!"
"No…no, Diana! Wales! Welsh Wales! The country to the west of England."
"Oh! Wales. I do know Wales. Little grey houses…covered in roses…in the rain…" 1982



Diana Vreeland
Fashion writer, society figure and later Vogue editor Diana Vreeland is captured in this illustration by René Bouét-Willaumez, from the November 1, 1933, Vogue. Here, she looks properly authoritative in a belted Mainbocher coat, feathered hat, and patterned scarf, holding in either hand her clutch and white gloves.



Квартира Дианы на Парк-авеню



Сумочка, мешочек из шкуры леопарда, туфли в духе 60-х, всё Roger Vivier



Before coming to the United States, Diana was a society girl Europe. She made a brilliant marriage to a very handsome and successful aristocrat. Through their connections, and because of her inate sense of style, Ms. Vreeland was offered the editorship of Harper's Bazaar where she worked several years.



Diana Vreeland
Known as DV to those lucky enough to be her friends, Diana Vreland was the epitome of Old World elegance and modern savoir faire. She also had a sense of humor and air of irreverence. She was the tastemaker to the American's who cared about fashion.



Mary Quant, great promoter of the mini-skirt, was given great coverage by Vogue. Ms. Vreeland was freindly with Jacqueline Kennedy. Below, another of Diana's darlings, Yve St.Laurent with models.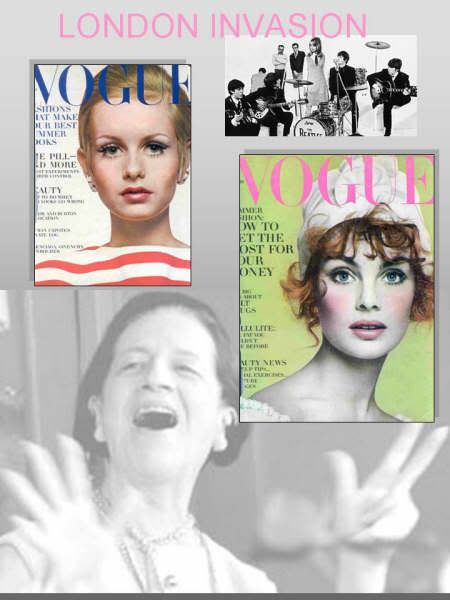 Bring on the British
Later she moved to Vogue, the most powerful fashion magazine in the world. Ms. Vreeland must bear a large part of the responsibility for the "British Invasion" starting in 1964. She adored the Beatles, David Bailey and Jean Shrimpton. She forced the fashion world to sit up and take notice of the Pop Phenomenon: Twiggy. By using her on the covers and in the pages of Vogue she inferred Supermodel status in the British teenager.



Diana's Discoveries
Lauren Hutton, Verushka, Penelope Tree, Benedetta Barzini, Marisa Barenson and Diana Vreeland on the cover of New York Magazine

The Divine Mrs. V

Diana Vreeland -- tastemaker, magazine editor, Costume Institute institution -- was perhaps the city's most recognizable fashion icon. A look at a life of high style -- and high drama.
" By Eleanor Dwight



STEP LIVELY: An image of Vreeland that appeared in Harper's Bazaar in 1936. She had just begun her 26-year reign at the magazine.

In the early spring of 1936, Carmel Snow, the legendary editor of Harper's Bazaar, watched as a young, dark-haired woman glided across the dance floor at the St. Regis hotel. She wore a white Chanel lace dress with a bolero and roses in her jet-black hair; her high cheekbones were heavily rouged. Snow was entranced and offered the woman -- a wife and mother of two just returned with her husband from six years abroad -- a job. And the rest is fashion history.
"I'd only been here for six months," Diana Vreeland later recalled. Though her husband, Reed, had been working at a bank, she also needed a job, badly. "I was going through money like one goes through . . . a bottle of scotch, I suppose, if you're an alcoholic." Thus began a tenure at Bazaar that would last 26 years, launching Vreeland as an American fashion icon.
She stood out from the start. Readers were introduced to her signature epigrammatic style with the typically colorful "Why Don't You?" column, which she began writing in August of 1936. "Why don't you . . . Turn your child into an Infanta for a fancy-dress party?" she asked readers. "Why don't you own, as does one extremely smart woman, twelve diamond roses of all sizes?" The theme repeated over and over in Vreeland's column was a personal credo: Don't just be your ordinary dull self. Why don't you be ingenious and make yourself into something else?
This maxim had served her well in the past. Raised in New York by her American mother, Emily Key Hoffman, and English father, Frederick Young Dalziel, little Diana -- with her dark, curly hair, deep-set eyes, and aquiline nose -- had to contend with being the plain girl in a family of beauties. Her mother, a free-spirited socialite who ran with a bohemian crowd, was dubbed the "Society Carmencita" after John Singer Sargent's popular painting of a Spanish dancer; her younger sister, Alexandra, was blonde and angelic. As a child, Diana was told by her mother, "It's too bad that you have such a beautiful sister and that you are so extremely ugly and so terribly jealous of her. This, of course, is why you are so impossible to deal with." Vreeland later summed up, with her typical aplomb: "Parents, you know, can be terrible."




For her part, Vreeland found her mother's flamboyance embarrassing. She claimed Emily came to Mother's Day at Brearley in "a bright green tweed suit and a little golden-yellow Tyrolean fedora with a little black feather, gilt at the end, that was short but sharp -- I'm talking sharp -- and she was very made up." In her teenage journal, she confided that "Mother and I agree on practically nothing." Instead, Diana emulated her classmates in how to dress; she worked on becoming tidy, enlarging her vocabulary, improving her manners. For the rest of her life, Vreeland would refine this ability to reinvent herself. "For years I am and always have been looking out for girls to idealize because they are things to look up to, because they are perfect," she wrote in her diary. But since she had never discovered "that girl or that woman," she announced, "I shall be that girl."

At Bazaar, Vreeland set about reinventing the job of fashion editor. She chose the American clothes to be featured in the magazine, oversaw the photography, and worked with the models. "I know what they're going to wear before they wear it, what they're going to eat before they eat it," she announced. "I know where they're going before it's even there!"
Photographer Richard Avedon credits Vreeland with starting "a totally new profession." Before her, the fashion editor was a society lady putting hats on other society ladies. Vreeland, on the other hand, felt that "to-day only personality counts . . . I do not believe we should put in [the magazine] so-called society, as it is demode and practically doesn't exist . . . but ravishing personalities are the most riveting things in the world -- conversation, people's interests, the atmosphere that they create round them -- these are the things that I feel are worth putting in any issue."




When Avedon first met Vreeland, he was standing at the doorway of her long, narrow office, at the far end of which stood a model in a stiff wedding dress. "Mrs. Vreeland never looked at me. She cried, 'Baron!' Beside her stood Baron de Gunzburg, the only male fashion editor in the world, a pincushion hanging like a Croix de Guerre from a ribbon at his throat, and she cried, 'Baron! Baron, the pins!' She took one pin and walked swinging her hips down to the end of the office. She stuck the pin not only into the dress but into the girl, who let out a little scream. Vreeland returned to her desk, looked up at me for the first time and said, 'Aberdeen, Aberdeen, doesn't it make you want to cry?' Well, it did. I went back to Carmel Snow and said, 'I can't work with that woman. She calls me Aberdeen.' And Carmel Snow said, 'You're going to work with her.' And I did, to my enormous benefit, for almost 40 years."

Vreeland's home life was just as dramatic. When the war began in Europe in 1939, Reed moved to Canada, while Diana stayed in New York in order to keep her job at Bazaar. "Reed was living in Montreal through the war, working for British interests," Vreeland wrote in her memoir, DV. "It was a very vivid period in my life. For seven years, I was by myself." She was devoted to her dashing husband, whom she had met in 1923 and married the following year; she was so smitten, on their first meeting, that when he asked her to play golf, she jumped at the chance, although she barely knew how to play. She showed up at the first tee with a bandaged arm and announced that she could only walk around the course with him.
And yet the relationship was far from perfect. There had always been rumors about Reed's liaisons, but Diana had looked the other way. Now people said that Reed had left his wife and was living in Canada with another woman. It was even rumored that Diana went to Montreal and confronted his girlfriend. She sat her down in front of a mirror and said, "Look at you, you are young and beautiful, and you have everything ahead of you. I am getting older and I have only my wonderful husband."

After the war, Reed returned to Manhattan, and the couple resumed a schedule filled with chic parties animated by their coterie of society friends -- C. Z. Guest, Cecil Beaton, Cole Porter. By 1955 the crowd was dining at the Vreelands' new apartment at 550 Park Avenue. The living room was bloodred; as Diana announced: "I want this place to look like a garden, but a garden in hell." Scarlet chintz covered with brilliant Persian flowers cloaked the room. Red carpeting spread over the floors of the living room and hallway. As Vreeland pointed out, "Red is the great clarifier -- bright and revealing. I can't imagine becoming bored with red -- it would be like becoming bored with the person you love."
To 21-year-old Ali McGraw, the apartment represented a world filled with enticing possibilities. In 1960, McGraw, a recent Wellesley graduate, was Vreeland's assistant. Picking up her boss's portfolio every morning, she was greeted by the scent of Rigaud candles, good oatmeal, and bath soap: "I would drink in the sight of things, the Persian miniatures, the photographs of everyone I had ever heard of, the Scottish snuff horns." She realized, she says, that she "had everything to learn."

By the end of the fifties, Vreeland herself was itching to take on new challenges. As Carmel Snow prepared to resign her post at Harper's Bazaar, Vreeland was keen to get her job. Hearst executives had other ideas. According to Adrian Allen, art director Alexey Brodovitch's assistant, Snow warned Bazaar's higher-ups that Vreeland "was a brilliant fashion editor who should never, ever, be editor-in-chief of a magazine." In late 1957, they chose to bring in Nancy White, Carmel Snow's niece. When Vreeland learned of White's appointment, she said, "We needed an artist and they sent us a house-painter."
Though she stuck it out for four more years, by early March 1962, the rumor began circulating that Diana Vreeland was leaving Bazaar. Sam Newhouse had bought Conde Nast, and, as one story has it, he hired Vreeland as a present to his wife, who wanted the best editor in the business for Vogue. In January 1963, Vreeland became Vogue's editor-in-chief.
Vreeland's humor and enthusiasm for the job immediately filled the nineteenth floor of the Graybar Building. According to former accessories editor Nuala Boylan, "A limousine would arrive, in the late morning or at lunchtime, and the door would snap open, and she would step out dressed in her usual head-to-foot black -- cashmere sweater, black wrap skirt, the pointed shoes, now famous, that were polished on the bottoms. The hands were beautifully manicured, the hair just so. It was a helmet -- once when her maid bumped into it by mistake with a tray, it clinked. And waiting at the curb, there would always be one assistant. . . . We would hear the clicking of feet and her loud voice over her shoulder dictating memos at a mile a minute."
Her secretary from 1964 to 1969, Felicity Clark, remembers an urgent memo, "a two-liner saying, 'Bring me shoes with chains on them.' Someone would come in swearing, saying, 'What's she on about now? There's no such thing as a shoe with a chain on it!' But you know, in six months' time everybody was wearing a shoe with a chain on it!" Another of Vreeland's memos stated that the Vogue staff should all wear bells at the office, according to fashion editor Carrie Donovan: "You know the sort of bells. Bells little kittens wear so they don't get lost in closets." So all the young women bought little bells, draping them around their necks and waists. "By the time she came in, we were all walking around with bells on. She pretended she didn't notice anything."
Donovan was always impressed with the abundance of Vreeland's ideas, and the intuitive sense she had for her readers. When Donovan planned to do a presentation using long skirts, which she had just seen in the French ready-to-wear, Vreeland admonished her. "'Oh, no, Carrie, modern women aren't going to go for that. They have to drive kids to school.' She never went anywhere except in a chauffeur-driven car; still, she understood all that."


Vreeland loved the sixties; her eclectic style fit right in with the times. "The idea of beauty was changing," she said. "If you had a bump on your nose, it made no difference so long as you had a marvelous body and good carriage. You held your head high, and you were a beauty. . . . You knew how to water-ski, and how to take a jet plane fast in the morning, arrive anywhere, and be anyone when you got off."
Vreeland's enthusiasm about the jet plane propelled her into producing fantastic, far-flung -- and wildly expensive -- fashion stories. Photographers went with models to Asia, Africa, the Middle East. But Vreeland, a perfectionist, was not always happy with the results. Model Penelope Tree remembers: "In England one time, David Bailey and I worked really hard on some photographs -- three days and three nights. We flew to America and triumphantly slapped them down on her desk. She got out her white gloves and she looked through the light box.
" 'Bailey, they're great!' Then there was a long pause. 'But we can't use them.'
" 'You fucking old bag! Why not?'
" 'There's no languor in the lips!' "
"We were furious, but we had to laugh," continues Tree. "She rather liked being called an old bag by Bailey."
One inspired shoot was Vreeland's assignment for Norman Parkinson in Tahiti in 1965. With a team of two models and 200 pounds of gold and silver Dynel -- false plastic hair -- Parkinson was sent off with the boss's instructions: "I wish you to select the finest Arab stallion that you can find in Tahiti -- check with some Veterinarian -- and caparison him in the manner of the Grand Epoch. I want to see an illustration, as this one here, where the horse's mane and tail are plaited to the ground. Use all the Dynel you want -- you don't have to bring it back." As Parkinson later remarked, "Mrs. Vreeland was always in there punching for the impossible and the unattainable. When her ideas succeeded, they were triumphant." If not, "there were no postmortems."

The sixties also brought unwelcome change. On June 6, 1966, Reed checked into New York Hospital, and the doctors discovered that he had cancer of the esophagus. Diana didn't discuss her husband's illness with anyone. When he died on August 3, 1966, at the age of 67, she was devastated. She drew a little heart in her date book with an arrow through it.
Susan Train, then a fashion editor at Vogue, remembers seeing Vreeland when she came to Paris for the collections the following January. "She adored him, and she grieved deeply. We were at one of the couture houses. She always ordered herself two or three things. She found an evening dress she liked. The vendeuse said, 'Do you want it in black?' 'Certainly not. In red. I don't want to remind anyone that I'm in mourning. That's my business.' Although she loved black, that winter she did not have anything in black."
After Reed's death, young men like photographer David Bailey and jewelry designer Kenneth Jay Lane filled the void in Vreeland's life. Lane met Vreeland when he first came to New York in the mid-fifties. Lane remembers: "She made me realize the importance of positive thinking. She would say, 'Don't look back. Just go ahead. Give ideas away. Under every idea there's a new idea waiting to be born.' " Lane accompanied Vreeland to movies and parties. Vreeland, he says, "wanted youthful energy -- Halston, occasionally Jack Nicholson. She didn't want to go to Brooke Astor's dinners anymore."
Soon, there was more bad news. By the end of the sixties, the powers at Vogue were becoming more critical of Vreeland's performance. When Carrie Donovan tried to warn her boss that the businessmen at Conde Nast were finding Vreeland's editorial style too costly and her message out of touch with the times, the older editor replied, "'Oh, I'm used to it. . . . I know how to handle those men. When they get this way, you just give it to them back.'" She was wrong. In the spring of 1971, Vreeland was fired.
When they realized Vreeland was leaving, her devoted editors were distraught. Polly Mellen hid in the bathroom, weeping. "Her office had always been wonderful. When you came in to see her, there she was in the bright red office with the leopard-skin rug. . . The next morning the office was beige, the rug was beige, and Vogue was beige."
Vreeland began a frantic trip around Europe. One night, Kenny Lane joined her in the dining room at the Ritz in Madrid. As the orchestra played "Fascination," "she started to bawl," Lane recalls. "She couldn't stop. It all came out. No Reed, no job."
Money had always been a problem. After her marriage, Diana became the parent whose income could be depended on. Although Reed always worked -- in banking, in investments, for Rigaud candles, for Pucci -- his jobs didn't bring in much money. By keeping up appearances -- she clothed by Paris couturiers, Reed in Bond Street apparel, each smoking cigarettes, both using a holder -- they managed to hide their financial situation from all but their closest friends. Now Vreeland dealt with this latest financial crisis by using her ingenuity once again.
In the spring of '72, Vreeland's lawyer, Peter Tufo, approached Ashton Hawkins, counsel to the Metropolitan Museum, about her working with the Costume Institute. When curator Ted Rousseau met with C. Z. Guest to discuss improvements at the Institute, he asked, "What do you think about Diana Vreeland?" She replied, "Well, if you don't have her, don't bother to open it. Nobody else can even do it." At 69, Vreeland was about to begin the most successful act of her career.




Ostensibly, Vreeland had been hired to persuade people to give their high-fashion wardrobes to the museum: She could get, the reasoning went, a lot of people to open their trunks. It soon became clear, however, that she would also orchestrate the exhibitions in a whole new way. She once said, "The trouble with this country [is that] they want to give the public what it wants. Well, the public wants what it can't get, and it's up to the museum to teach them what to want."
While the staff members wanted the costumes to appear as they would have in the time period they represented, Vreeland wanted the clothes to look now. When a mannequin was being dressed for a historical show, Vreeland might say, "Oh, no, those shoes are wrong," and insist on better-looking shoes. The curator would reply that "these" shoes hadn't existed then. Mrs. Vreeland would say, "Well, if this woman looked like this mannequin . . . she would have thought of them."
In her off hours, Vreeland was living very much in the present. Although she had a string of male companions to escort her around town, she was particularly fond of Fred Hughes, a prominent member of Andy Warhol's crowd whom Warhol described as "one of the only young people around who insisted on Savile Row suits."
When Fred had flings with young women, Vreeland became jealous. Warhol, too, felt some jealousy; he complained that when Fred was drunk, he would "talk like Mrs. Vreeland." In 1986, long after Vreeland and Andy had stopped seeing each other regularly, Warhol wrote in his diary: "I told Fred that the kitchen was dirty and he looked at me and said, 'Well, I'm not going to do the dishes.' Diana Vreeland has been a really bad influence on him. I should've broken that up."
Although Vreeland enjoyed the Studio 54 culture, she didn't become part of it. As art critic John Richardson recalls, "Diana drank quite a bit" and preferred vodka and scotch to drugs. One night, while having dinner at his house on 38th Street, Kenny Lane said to her, "You're always talking about mara-ju-wanna" -- which was how she pronounced it -- "I think it's about time you smoke some." He gave her a "joint," and she lit up. "Oh, my God! Oh, my God!" she exclaimed, and then she became trancelike. "Mmmmmm. Ohhh. Ohhh. I feel so strange, so wonderful." And, as Lane remembered, "she finished the performance and I said, 'Darling, I'm afraid it's not marijuana. It's a joint made with regular tobacco put back in.' 'Oh, no! How could you have done this to me?' " Vreeland's nonstop social life included older friends as well. As fashion executive Boaz Mazor remembers, there were two places you wanted to go in the seventies: the parties of "the Paleys and the de la Rentas, and Vreeland was always there, naturally."
In the winter of 1976, Vreeland visited her old friend Kitty Miller in Palm Beach. Her friend Lou Gartner remembers sitting with Vreeland at a large party. When dinner was over, at about 10:30, guests started to get up. Vreeland said, "What the hell is this, Scarsdale?" She said, "I want to go dancing." Gartner took her to a club in West Palm Beach. Gartner recalls, "I was talking to her and this shadow came across the table. And I looked up and there was the biggest black man I have ever seen in my life and he said, 'Do you want to dance?' Vreeland looked up and smiled at him, and he said, 'Not you, him.' And I said, 'I don't dance, but she's wild, she's great.' " Diana got up and, Gartner continues, "I've never seen anything like the two of them on the dance floor. I mean, you talk about dirty dancing, it was unreal." When she finally sat down, Vreeland said, " 'He's the most marvelous man. He's just out of prison. He needs help and support.' I said, 'We're going home.' "
After 1984, Vreeland started coming to the museum less and less, and as the eighties wore on, her health forced her to retire to the privacy of her red Park Avenue apartment, where she received only family and very close friends. Although she had a good salary from the Met and a pension from Conde Nast, Vreeland's expenses still exceeded her income. In 1987, she decided to sell some of her costume jewelry and called Kenny Lane to ask what her "junk" jewels might bring at auction. He replied, "More than they're worth. Thirty or forty thousand dollars." Astonished, she replied, "That much? My God!" Vreeland's friends and acolytes packed themselves into Sotheby's for the event. The sale of the jewelry brought in $167,000, well over Lane's estimate. As he recalled, "When I told D.V. over the phone what the results were, she said, 'Is that all?' And I said, 'Well, I'm glad I'm sitting down.' "
As her emphysema worsened, Vreeland secluded herself in her bedroom and refused to let anyone see her. When she invited people to dinner, she'd call her guests on the telephone in the dining room, where the meal was served, and conversation would proceed over the wire. Very good friends, like Lane, Oscar de la Renta, Andre Leon Talley, and Jacqueline Onassis, would come and read to her.
Several times an ambulance was called for her, only to have Vreeland revive -- once, famously, she shot straight up on the stretcher and ordered herself returned. In Vreeland's last hours, her household manager remembered, "she was hallucinating, talking to her mother. From what she was saying now, she was young again, dancing at a party, enjoying herself." Suddenly she cried out in her strong voice, speaking to the bandleader, "Don't stop the music or I'll tell my father!" These were her last words. She sank into a coma and did not revive again. Diana Vreeland died on August 2, 1989, in the New York Hospital. At the apartment, in the nurses' register, the last entry read "Mrs. Onassis called."

Bringing Diana Vreeland to Life


Carmel Snow and Diana Vreeland
photo by Walters Sanders/Time & Life Pictures/Getty Images
When the actress landed the role of fashion icon Diana Vreeland in the upcoming film Factory Girl, she was determined to capture the legend's unique wit, charm, and style. Incredible clothes and kabuki-like makeup were only the beginning. As told to Christine Lennon.
When the actress landed the role of fashion icon Diana Vreeland in the upcoming film Factory Girl, she was determined to capture the legend's unique wit, charm, and style.
It's so funny the way life is. Soon after I moved to New York for acting school in 1983, a friend of mine and I went to the Costume Institute at the Metropolitan Museum of Art and took the audio tour. Diana Vreeland was a special consultant to the institute at the time, and it was her voice on the recording. I just remember thinking what a funny character she was, and her voice left such an impression on me.
SEE LOOKBOOK: BAZAAR 140TH - THROUGH THE YEARS
Then about two years ago, I did an interview with Isaac Mizrahi for his Oxygen-network show, and we went back to the museum to see the Chanel exhibit. That led to this long conversation about Mrs. Vreeland. I told him that I had heard her only that one time, so many years ago, and I never saw Mark Hampton and Mary Louise Wilson's play about her, Full Gallop. He said, "You have got to read her autobiography, D.V." Then he sent me a copy, which, of course, I never read.
One day about a year ago, when director George Hickenlooper started production on Factory Girl (a movie about Andy Warhol cohort and troubled pop icon Edie Sedgwick), I got a call from a friend, actor Cary Elwes. He said, "I'm sitting here with my buddy George, and he's trying to cast the role of Diana Vreeland, and I said, 'Oh, my God, Illeana!' and George said, 'Oh, my God, Illeana!'" It happens like that for me a lot. I was cast after that one phone conversation.
Thank God Isaac sent me that book. I had it in the books-I'm-going-to-read-eventually-when-I-get-the-time stack. And so I read it a few times, and there's just so much material about her life. She was an amazing woman. I had no idea how long she worked at Harper's Bazaar. [She began as a contributor in 1936, became the fashion editor six months later, and held that position for 26 years, until 1962.] It was a lifetime of dictating fashion.
I tried to pick out gems from the book so people would get a real sense of who she was. Mrs. Vreeland was like Andy Warhol or Liza Minnelli, one of those faces we always saw in New York that left such a big impression.
She was such a forceful person. I wanted to fight for her and get as much of her personality into the movie as possible, even though she's in it for just a few scenes. The film is set in 1965, and Mrs. Vreeland, then at Vogue, is the one who tells the Edie Sedgwick character (played by Sienna Miller) that she has to stop with the drugs. It was a very different world back then. When Edie didn't do that, the fashion industry really closed the iron door on her.
Mrs. Vreeland loved Edie and said that she had beautiful skin. (She also said she'd never met anyone on drugs whose skin wasn't perfect.) But the way it went down, the way everyone turned on Edie, was kind of brutal. In the film, Mrs. Vreeland says, "Oh, well. It's better than being boring!" And I think she really believed that.
Mrs. Vreeland was so over-the-top yet completely genuine. I didn't want her to be this kooky character, like a musical-comedy parody. When we were doing a scene, I'd try to insert something she actually said, like her classic "red is the great clarifier" speech: "All my life, I've pursued the perfect red. I can never get painters to mix it for me.... About the best red is to copy the color of a child's cap in any Renaissance portrait." And I know what she meant. Red is a difficult color to get right! Also, for instance, Mrs. Vreeland at one point hired four assistants who spoke fluent French, so when it came time to cast them, I said, "Hey, listen. Could you make sure to cast girls who speak fluent French?" These were my own little ideas to make the film as accurate as possible.
She was such a big figure, and when I say big, I mean she was physically tall, with this black lacquered hair and this booming voice. I don't really look like her, but I knew I could pull it all together once I got into hair, makeup, and wardrobe. They dyed the front of my hair black and added this black fall to the back, I painted my nails her signature red, and I wore the white kabuki makeup and her famous rouge. She wasn't beautiful, and I think people automatically think she applied her makeup that way to mask her looks. But that wasn't her intention. It was a style that she really believed in, and she stuck with it her entire life.
What really helped me get into character, though, was the wardrobe. John Dunn, the costume designer, and I worked to get that right, and I have to say I think Mrs. Vreeland would be pleased. I wore about four outfits. My favorite has to be this Mexican dirndl skirt that she was wearing in this picture I saw. If there's one thing I've learned about fashion from this movie, it's that a dirndl, with a tight waist and a full skirt, will always look good. All of the clothes I wore were vintage, the real thing. We found this huge ivory necklace that must have weighed 10 pounds and these enormous Elsa Peretti earrings and belt. Ah, the belt was something else. It makes your body look great. In an office scene, I wore a caftan. There's a famous photo of Mrs. Vreeland wearing a caftan to work. I also wore an all-black outfit with a very high turtleneck and dramatic jewelry.
So many lasting trends in America can be credited to Mrs. Vreeland. Red nails are one of them. And she introduced thong sandals to this country. She had this exotic sense of style and so many good ideas in the '50s and '60s that still hold up.
When I was a kid, I'd look at magazines Mrs. Vreeland had worked on and had a clear idea of her aesthetic. In effect, she was saying, This is how I think people should live. In that way, I'm a little bit like her. When I worked with Kevin Bacon (who I met in 1996 on the set of Picture Perfect and worked with again in 1998 on Stir of Echoes), he'd call me "Ask Illeana," because I'd always interrupt conversations with random advice. I have a little bit of information on almost every subject. If you have a question, I'll never not have an answer. My favorite words of wisdom are "Women love the blue box" and "Never date a man with a loft bed. It's impossible to look sexy getting into it."
Mrs. Vreeland's ideas were more outrageous, though, like "Why don't you have an elk-hide trunk for the back of your car? Hermès of Paris will make this." No one really does that anymore, except for possibly Martha Stewart. But Mrs. Vreeland was special in that she did it with such wit and with a wonderful sense of humor.
I was surprised to learn how funny she was. There's this famous caption she wrote for a photo of a nude model lying down with a large black straw hat that read: "Spend the summer under a Big Black Sailor"! In the movie, we show that humor. Whenever actors play real people, I think they're trying to make it as accurate as possible. When that person is Diana Vreeland, who people remember so vividly, it's a challenge. I wanted to make sure that anyone who didn't know about her before they saw the movie got a good sense of who she was from it. She had this entirely original mind and a never-ending font of ideas she got from traveling all over the world. In terms of style, the true originals seem to be disappearing. And I guess this is my way of keeping her memory alive.
Find this article at: http://www.harpersbazaar.com/magazine/140-years/diana-vreeland-140-0107